Workshops
There are currently no Workshops in the works.
Retreats
Join me in Colorado Springs with Jason and Amy Fiedler and the CMER team for the 4th Charlotte Mason Educational Retreat: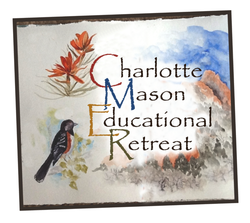 ---
Past Workshops
Dates: August 27, 2016
Time: 9:00 a.m. - 2:30 p.m.
Cost: $25* Lunch is not included; you may bring your own or there are restaurants in short walking/driving distance. (I believe Chips and Dips has changed hands and is not open yet.) *The cost for members of the 2015-16 CME-KC Study Group is $20.
Location: The Diastole Scholars' Center, 2501 Holmes, KCMO 64108 *Nursing babies, only.
Registration: To receive registration materials or ask questions, please write to Karen: information.cmekc@gmail.com
Session I - Narration: The Cornerstone of a Charlotte Mason Education – Part I
We will explore how narration contributes to the act of knowing and look at what Mason proposed regarding the purpose, the principles, and the practice of narration. What is narration? Why do we do it? How is it done? How does it look in a home with multiple students? How does narration change over time and with maturity? How is narration assessed? All this and more.
Session II – Narration: The Cornerstone of a Charlotte Mason Education – Part II
We will put into practice the principles discussed in Session I, reading and narrating for ourselves.
LUNCH
Bring your own lunch and store in the fully equipped kitchen or visit one of the several restaurants within short walking or driving distance. Diastole has many lovely spots for casual eating, both indoors and out.
Session III - Charlotte Mason and the Older Child
We will recharge our batteries for the upcoming year and cast a vision for homeschooling with Charlotte Mason through the junior high and high school years. We will look at the distinctive elements of a Charlotte Mason education in these upper years and offer a model for assessing your students, at whatever age. This session has much to offer, no matter the age of your children.